Offerings
There are a variety of ways to work with Diane.
Coaching Session Packages, on site engagements or a combination of the two for optimal results.
Contact Diane for a tailored approach to your situation.

Ten Tips to a Successful Practice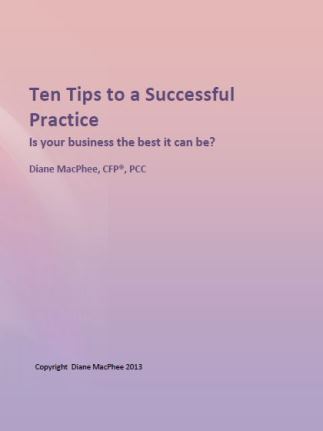 Have you ever wished you had a "How to…" manual for your business? Well, now you do. Diane has made it very affordable for all to possess a Users Guide to running a practice.
Educate yourself on the actions you must take to become even more successful than you already are.
Are you overwhelmed and unproductive? Diane offers both concise information and inspiration to motivate you to pursue your unique definition of success. Ten Tips to a Successful Practice is the jumpstart you need.
Commitment and accountability will lead you to joy, fun and a full life.
Give yourself that opportunity. The investment is $12.95 to keep a manual on your desk to ensure that you follow your intentions to build a better business and be a better person. Take action now to get started today.

Please use Contact Us with your information to receive your digital booklet in .PDF format.

What's the Buzz?
Find out what the media is saying about Diane.